Established in 2013, QSR Vietnam is one of the leading companies in the restaurant chain services in Vietnam with a system of nearly 150 restaurants, spread over 20 provinces and cities across the country, known for famous brands from the US such as Dairy Queen®, Swensen's, The Pizza Company, AKA House, Holy Crab, Chang and The Coffee Club. 
QSR Vietnam has been affirming its mission to bring customers the best culinary experience with the enthusiasm of more than 3,000 employees working hard in 150 stores in 20 provinces and cities. 
The Pizza Company - Pizza was inspired by Italy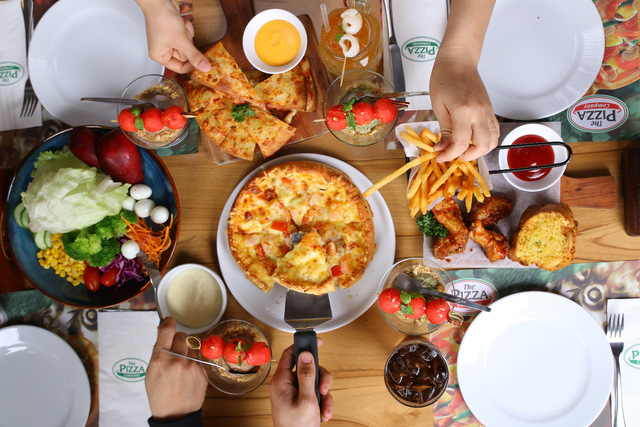 We are The Pizza Company. The brand is owned by Minor Food Group, one of Asia's leading groups in the hospitality and luxury cuisine.
In 2013, The Pizza Company restaurant was presented for the first time in Vietnam. Along with the trend of development and international integration, "The Pizza Company" is one of the rapidly growing pizza brands with more than 60 restaurants nationwide and has become a favorite destination of food. Besides the unique Pizza products, the enthusiastic, friendly service style, convenient delivery service, along with our focused investment and development, we believe that The Pizza Company will satisfy the tastes of the most discerning Vietnamese customers. 
DQ Grill & Chill - A brand from America
DAIRY QUEEN has been a famous American upside-down ice cream chain since 1940. And DQ GRIL & CHILL (DQ G&C), born later in late 2001 but has become equally famous with its rich menu of hot food, drinks, upside-down ice cream, etc. 
With unique recipes, more than 10 types of DQ's Burger and Crispy Chicken have conquered millions of gourmet customers worldwide, including Vietnam. Chicken and Burger ingredients are always newly imported to ensure uniform quality every day and delicious taste. Besides, the dish is marinated according to its own recipe, so it has a different taste compared to other fast food brands. 
Currently, DQ Grill & Chill has 7 stores in Ho Chi Minh City and Hanoi, attracting customers not only by quality products, classy, ​​reasonable prices, but also a comfortable modern restaurant space. "Fan Food not Fast Food", that is the motto of Dairy Queen and DQ Grill & Chill. 
Swensen's - American ice cream brand has been loved since 1948
Since the birth of the Swensen brand in 1948, in San Francisco (USA), Mr. Earle Swensen has believed that his ice cream will conquer customers everywhere based on three things: Quantity - Quality - Value that Swensen's delivers. After more than 60 years of development, now Swensen's has more than 300 stores in many countries around the world.
Currently in Vietnam, ice cream enthusiasts can enjoy ice cream with unique flavors of 50 types of Sundaes. As soon as it officially opened in Vietnam, Swensen's Ice Cream has been enjoyed by a large number of young groups, families in excitement. 
Aka House - Yakiniku is famous in the country of the rising sun
Aka House is a Japanese Brand meant to represent success, prosperity and luck. With the style of Yakiniku barbecue at the table born in 1945 in Japan, Aka House brings a whole new experience to customers about the style of enjoying high quality barbecue from the land of the rising sun. 
Opening its first store in Vietnam in October 2017 with an extensive menu of over 120 dishes made from imported meat and fresh seafood, Aka House will be a perfect new choice for Vietnamese diners.
Holy Crab - Crab dish from Singapore
Holy Crab is a chain of restaurants specializing in the standard dishes of Singapore, harmoniously combining the sophistication of the East and the magnificence of the West.
Open space - Professional service - Quality of food are 3 core values that Holy Crab is committed bringing to customers. Opening its first store in April 2018 with the ambition to expand across Ho Chi Minh City and other major cities, Holy Crab hopes to become a suitable venue for diners to experience Singaporean cuisine and culture. 
Chang brand was born from the strong love for the land of Golden Temple. Each story, each feature of Thailand will be shown through the design and image of each restaurant; From traditional Tuk tuk cars, floating markets on the river or the vibrant nightlife that are all wrapped up in Chang's space. Coming to Chang, diners not only experience Thai cuisine, but also learn more about the culture of this country.
Unlike other Thai restaurants, Chang offers dishes that are still rich in Thai style, but with more modern variations, more trendy, showing a young, vibrant and friendly Thailand. With a friendly elephant image, along with a modern and airy restaurant design, Chang hopes to bring an enjoyable experience to diners.
The Coffee Club Vietnam - Where do we meet?
After nearly 30 years since the opening of the first store, the Australian coffee - restaurant chain The Coffee Club has now had more than 400 stores in 9 countries and serves more than 40 million cups of coffee per year. Commitment to bringing the experience of "Good food, quality coffee and perfect service" in a comfortable and friendly space is the ceaseless effort of The Coffee Club's staff with the desire to become a sentence, answer the familiar question: "Where do we meet?".
Choose Vietnam as the 10th stop, with the similarity in the local coffee-enjoying culture and the coffee culture of the Australian people and the diverse variations of East-West dishes, The Coffee Club promises to become a favorite place of customers within the next 5 years.
With the sophistication in service style, The Coffee Club will give all diners a sense of peace of mind when using the brand's services as well as when recommending to friends, family and partners. All our efforts in the hope of becoming a familiar answer to every encounter: Let's meet at The Coffee Club!